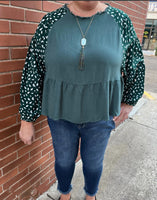 Plus size
Don't forget to check out our plus size items listed in the catalog! We carry sizes 1X, 2X, & 3X.
Shop Plus Here
Meet the Owner
Hello! I'm Katie, the owner of She Shed Boutique. This is my loving husband Micah and our son Brenden, who is our whole world! We are from Southern IN and recently bought a little home here to call our own. We love spending time outdoors and with our families. Owning a Boutique has been a dream of mine for a very long time, and that dream has finally come true! She Shed Boutique was inspired by my love for clothing and helping women to feel confident in their outfit! If you are an indecisive shopper, I am here to help you find the perfect outfit or simply find that statement piece that completes your outfit to make you feel confident and beautiful. I  thank you so much for visiting my website and for shopping with us!
Katie Bullock- Owner
Our Store
Location/Hours
330 Main Street Downtown Vincennes IN
Monday-Friday 9:30-5
Closed Wednesdays!
Saturday 10-3